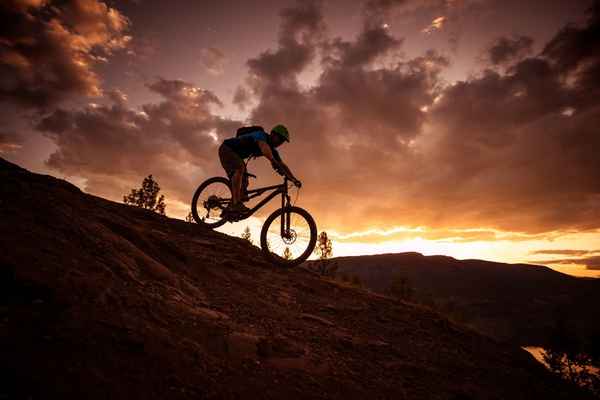 The majority of bike enthusiasts would love to have a bike that can be used on various surfaces. Unfortunately, different bikes are made for different activities and types of terrain. The bike makers put all their efforts into making each bike a top performer for its intended use.
Therefore, there are bikes for roadies, pavement riders, and racers, amongst other things. Before you go to a bike shop, think carefully about what kind of bicycle activities you want to do.
In this piece, we'll try to address some of your concerns about pedaling your bike on paved streets. Let's dive in.
Riding a Road Bike vs. Riding a Mountain Bike
To start with, let's spell out the difference between a mountain bike and a road bike.
Mountain bikes are suitable for riding on-road (paved roads or otherwise), while road bikes are designed primarily for riding on pavement.
If you primarily want a bike to use on pavement alone, then a road bike would be better. Otherwise, a mountain bike would be your best pick if you need to go off the beaten path and onto bike trails, make vertical moves, or ride off-road.
Is it possible to ride a mountain bike on the pavement?
Though mountain biking was my original introduction to the sport, I now like riding on my local greenway and the streets and highways close to my home. Knowing that bikes are intended for riding on-road and on pavement, I would often ask, "Can I ride my mountain bike on the road?"
The answer is yes.
And after a bit of study, I learned that it was very typical for individuals to ride their mountain bikes on the road.
Some riders, especially commuters, appreciate the mountain bike's versatility and stability instead of road bikes. According to research, riding your mountain bike on the pavement is even more helpful than riding your road bike. Riding a mountain bike on the road has certain drawbacks, so let's take a closer look.
Bike Riding on Pavement Has Many Benefits.
Riding a mountain bike on the road has several advantages. These few reasons have made mountain bikes popular among commuters.
Stability
A mountain bike may be heavier than other bikes, but its stability is unmatched by other bicycles.
Compared to some of the very light road bikes and hybrids on the market, you'll ride with more assurance on a sturdy mountain bike frame.
Comfortable
While road bikes are ideal for cruising down the highway at top speed, they often force riders to adopt unnatural "aerodynamic" postures due to their vehicle's design.
Mountain bikes keep you more upright on the bike and in a less aggressive position when you are merely seeking an easy ride.
Versatile
It is well known that a mountain bike trail can vary drastically. Therefore, mountain bikes are constructed to manage various types of terrain.
This versatility transfers well to the road, as most cities are filled with bad roads and obstructions that can substantially limit the use of road bikes.
You can even get creative when mountain biking on the road, as your bike may construct new trails down steps and drops.
Possibly more traction
Depending on where you ride, a mountain bike may be ideal for keeping traction on the roads you encounter.
The number of roads with various hazards outnumbers the number of roads with smooth pavement. It might be necessary to step off the road for a short time to let cars pass, or you might even keep a riding lane on the grass.
Disadvantages Of Bike Riding On Pavement
As I said, there are a few negatives to riding your mountain bike on the road. These aren't deal-breakers, but it's clear that road bikes have the upper hand here.
They move more slowly.
Mountain bikes are built to survive the rigors of a trail, so don't be surprised if they take a battering. Mountain bikes are significantly heavier than road bikes, which means they are less maneuverable on the road.
Mountain bikes are outfitted for strength; instead, road bikes are designed for aerodynamics and weight reduction.
Requires more energy to ride.
In line with the previous drawback, mountain bikes will demand more energy to accelerate and sustain speed than road bikes, so don't expect to keep up with tight groups.
Weakened footing
A surprising issue with riding a mountain bike on the road is that the tires do not give the same traction as a conventional road bike tire.
Mountain bike tires frequently contain rubber knobs intended to grip the trail. However, these knobs can impede your tire from adequately grasping the surface when riding on the road.
As a result, be cautious when turning!
Does Pavement Ruin Mountain Bike Tires?
Pavement is rough on most tires and can cause damage. Cracks start to form in the sidewall after many bumps, which weakens it and makes it more likely to get punctured.
Those who ride primarily on pavement may want to consider a tire like the Supertuff from Kenda or the Marathon Supreme from Schwalbe. Instead of adding weight or lowering performance, they add puncture-protection rubber layers surrounding an air-filled chamber to keep it safe.
Are mountain bikes on the road hard to ride?
The benefits of riding a mountain bike on the road have been discussed. Are there any drawbacks? These are the expected downsides of using a mountain bike on the road:
Mountain bike tires are broader and have increased rolling resistance. As a result, pushing the tires requires a little more effort. There is no problem with having multiple sets of wheels and tires, and you can switch them if necessary.
All-mountain bikes (hybrids, xc, and trail) are heavier to deal with the stresses of jumps and bumps. Bikes have to handle additional stresses on the frame, so the frames are stronger and heavier. However, this weight adds a little difficulty to climbing hills.
The suspension and brakes on mountain bikes are far more sturdy than those on road bikes. The increased weight makes hill climbing a little harder. But the smoothness of a full-suspension mountain bike ride is one of its most appealing features.
As you can see, a more challenging bike ends up weighing more, which makes pedaling more difficult. Even bumpy pavement is smooth, and you can cope with any terrain at a moment's notice with the extra suspension.
Tips for riding your mountain bike safely on the road
As a mountain biker, you undoubtedly remember the first time you were on your bicycle. You may have thought it was an unusual experience, like riding over rocks and across various terrains.
Maybe you recall how fun and exciting it was too. With time, it all gets more comfortable. However, as you acquire more exposure, you'll notice critical recommendations you should adopt to become a pro. The following is the best mountain bike starter advice for newbies.
Observing the way your body is positioned
One of the primary recommendations for successfully riding a mountain bike is to observe your body position. Rigorous terrain, such as roots and rocks, will be encountered when riding the bike. Therefore, you need to adopt the appropriate posture to navigate the current challenging terrain.
When it comes to your body's position and the terrain, you have two main options: neutral and correct. You'll be able to avoid problems like rolling when you adopt the initial body position when riding your bike. You'll be able to ride your bike smoothly as well.
Pedals in the neutral position are also evenly distributed in weight. You'll feel some bend in your knees as well as your elbows. When in the ready position, the route grows steeper and rockier. Therefore, the position equips you physically to take on problems added to mountain biking.
Focus on your shifting talents.
Mountain biking is a physically demanding sport. Consequently, learning how to change gears is critical. You'll save money on repairs by being able to move correctly. You'll be able to gear your vehicle properly by having good shifting habits. Mountain biking is an arena where beginners can often shift.
Muscle memory is improved with the use of this technique. As such, you can quickly move up and down when recommended.
Besides, you can shift early. In other words, you don't have to wait until you're on the road to make a decision here. Before you hit the rocky terrain ahead, you must switch out your gear.
Choosing the best line
A beginner's mistake when riding a mountain bike on the road is focusing on the spots they wish to avoid. Instead of concentrating on where they're going, people tend to give this more attention. A good rider knows how to pick a route and stick to it the entire way.
Some loose rocks and deep ridges can halt your progress, depending on how experienced you are. To find the appropriate line, you should examine the road for any risks. Begin by glancing down the road you're about to travel.
Comfort in the saddle
Most of the time, you'll be seated on your mountain bike. Therefore, you need a saddle that is as comfortable as possible. It's essential to test out several mountain bike models before buying one. You don't want to settle for just any bike. The shape of the saddle is also vital to consider.
Most people have at least one mountain bike. If you don't, you might want to look into getting a lighter, easier-to-ride bicycle. Before settling on a particular brand, it's a good idea to consider your budget.
It's possible that you already own a mountain bike. You might want to think about getting a more versatile model that can handle both rough terrain and smooth road commuting.
Conclusion
In conclusion, mountain bikes are undoubtedly safe to ride on paved roads. Mountain bikes can be a better option in some scenarios than road bikes, even though road bikes are the clear winner in those categories.
If you have any more questions or comments about this piece, please leave them in the space below!