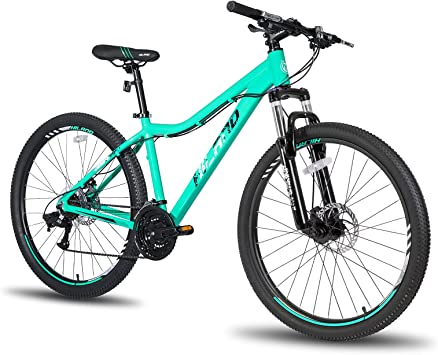 The Hiland 29-inch Aluminum Mountain Bike is perfect for anyone looking for a versatile and durable bike that can handle any terrain. The Hiland Conqueror is perfect for mountain biking, commuting, and hiking with an all-terrain design.
This bike features a lightweight aluminum frame built to last, as well as wide knobby tires that provide plenty of traction on any surface.
Whether you're conquering steep hills or enjoying a leisurely ride on flat terrain, the Hiland Conqueror is sure to provide a smooth and enjoyable experience. So get out there and explore the world on your new Hiland 29-inch Aluminum Mountain Bike!
Hiland 29 inch Aluminum Mountain Bike, Hydraulic Disc-Brake, Lock-Out Suspension Fork, Cross-Country 16 Speeds for Mens Trail Bike
as of September 20, 2023 2:44 pm
Frame
This bike features a high-tech frame made from lightweight and durable aluminum and comes equipped with 29″ wheels that are perfect for tackling rough terrain. The alloy rims provide strength and stability, while the all-terrain tires ensure that you can easily navigate any terrain. Whether you're hitting the trails on a weekend adventure or commuting to work, the Hiland 29″ Aluminum Mountain Bike is the perfect choice for anyone who wants a top-of-the-line ride.
Suspension
Who says you can't have the best of both worlds? The Hiland 29-inch Aluminum Mountain Bike lets you enjoy a smooth, comfortable ride on any terrain.
With lock-out suspension, you can absorb bumps and thumps with ease. For a more efficient pedaling experience, flip the switch to inactive mode.
Whether you're hitting the pavement or trails, this bike can handle it all, thanks to the flip-switch suspension system that makes pedaling more accessible and comfortable.
You'll love the versatility and convenience of this top-of-the-line mountain bike.
Speed
Hiland 29-inch Aluminum Mountain Bike is designed for speed and cross-country performance. It features a 16-speed drivetrain for quick, precise shifting and a lightweight frame for easy maneuverability.
With its advanced features, this bike is perfect for professional riders who want the best in speed and performance.
Brakes
When it comes to mountain biking, having effective brakes is essential. The Hiland 29-inch Aluminum Mountain Bike is equipped with dual hydraulic disc brakes.
These brakes provide a more progressive effect than mechanical disc brakes or V-brakes, making it easier to slow down or stop. In addition, the Hiland Hydraulic Disc Brakes are more durable and require less maintenance than other brakes. As a result, you can ride confidently, knowing that your bike can stop quickly and safely.
Saddle
The breathable saddle is perfect for those who enjoy riding in all weather conditions. The Hiland saddle has a perforated leather top that allows air to circulate, keeping you cool and comfortable even in the hottest conditions.
In addition, the Hiland saddle features a gel-infused foam padding that conforms to your body, providing support and cushioning on even the most challenging rides. Whether you're an experienced rider or just starting, the Hiland saddle will improve your riding experience. Order yours today and see the difference Hiland can make.
Tires
The Hiland 29-inch Mountain Bike comes with nin slip wear-resistant tires. These tires are perfect for any terrain and keep you safe on your mountain biking adventures.
Internal Cabling
The internal routing protects your cables from damage and keeps them looking clean and new for longer. Additionally, the bike's sleek look is achieved by hiding the cables inside the frame. This gives the bike a streamlined appearance that is sure to turn heads.
Assembly
The Hiland 29-inch mountain bike is simple to put together. It's 85 percent pre-assembled and has assembly tools like all Highlands Bike.