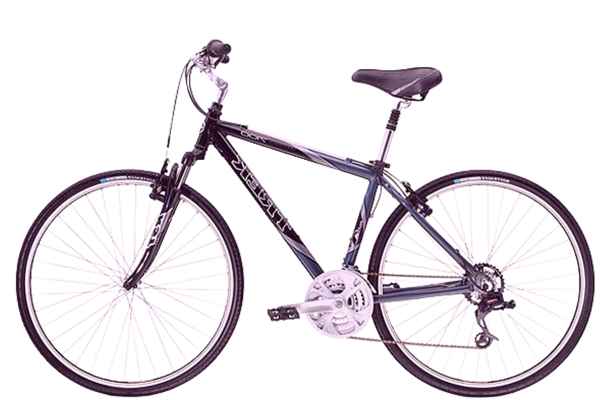 Regarding all-around mountain riding, there aren't many complaints about the Trek 7100. The Trek 7100 hybrid is an excellent bike for fast ascents on trails. Despite this, the Trek 7100 has some drawbacks regarding steep climbs.
The Trek 7100 is a great bike for road riding and sidewalk jogging on slightly potholed ground or a brick-lined walkway. It's also capable of handling rough terrain well, so it's a versatile hybrid that can be used in the mountains and is perfect for essential mountain excursions.
Features
Frameset & Size
The Trek 7100 bike is the perfect choice for riders who want a lightweight and nimble bike that can still handle rough terrain.
With its Alpha Silver aluminum frame, this bike is built for durability without sacrificing performance. And with sizes available in 15, 17.5, 20, and 22.5″, there's a Trek 7100 bike perfect for any rider.
Whether you're looking to cruise down your favorite trails or commute to work, the Trek 7100 bike is up to the task.
Wheels
This bike is built for durability and performance with alloy hubs and Bontrager 550 36-hole alloy rims. The Bontrager H4 tires provide 700x35c of traction and allow riders to tackle any terrain.
Whether you're looking to cruise down your favorite trail or commute to work, the Trek 7100 is the perfect bike.
Drivetrain
It features a front and rear derailleur, allowing you to switch gears smoothly. The crank is made from Shimano M171 material, making it durable and reliable.
The cassette is also made from durable materials, ensuring you'll have an excellent ride for years. The pedals are made from nylon platforms, providing a comfortable and stable ride.
With a Shimano Tourney front derailleur and an SRAM X3 rear derailleur, this bike provides a great ride with plenty of gears to get you up and down any hill. The 48/38/28 crank gives you a wide range of gears, while the 14-34 cassette offers plenty of low-end power for climbing hills.
The nylon platform pedals give your feet a comfortable and stable place to rest, and the chainguard helps keep dirt and other things from getting into the chain.
Components
The Trek 7100 bike is perfect for those who want to enjoy a comfortable ride. With its Bontrager Boulevard saddle and seat post, this bike ensures you'll be able to sit back and relax on even the longest of rides.
The alloy, adjustable suspension frame combined with the Bontrager-approved handlebar and stem provide a sturdy yet comfortable ride. And with the Tektro linear-pull brakes, you can be sure that you'll always be in control.
So whether you're looking for a leisurely ride or a challenging workout, the Trek 7100 bike is a perfect choice.
Various versions of Trek 7100
2002 Trek 7100
The Trek 7100's 2002 model has no shock fork, but the hard alloy fork is more comfortable and lighter for regular road riding. However, if not treated correctly, the steel handlebar will rust. Overall, it is still quite robust.
2005 Trek 7100
A shock-front fork is used for the first time. Besides that, the 2002 Trek 7100 has many of the same parts, but because more aluminum components have been used to build it, it is simpler to maintain.
2011 Trek 7100
With the Bontrager Boulevard saddle, you get a more durable and softer seat. Longer commutes need tremendous effort, so they must lean farther back on the handlebars to ride faster.
2012 Trek 7100
The 2012 Trek 7100 is a hybrid bike, which is also the most popular. The paint color on this model is a bit more attractive than the previous version's.
Is the Trek 7100 a hybrid bike?
The Trek 7100 is a hybrid bike built on the Trek 7000. The Trek 7100, which debuted in 2002, is a cheap, flexible motorcycle that many commuters enjoy.
What is the Trek 7100 equivalent to?
The Trek 7100 is a mixed-mode bike that combines the features of a mountain bike and a road bike for the best of both worlds. It's built to be fuel-efficient and quick, with a comfortable, non-racing upright posture.
Do Trek bicycles have a lot of weight?
A bike's maximum weight depends on its type and model. Most other brands, including Trek bikes, have a 275 or 300 lb maximum weight limit. This appears to be accurate, for the most part, with other companies. Road models and mountain Bicycles are both included in this range. A 275-pound weight restriction is more common on road bikes than on mountain bikes.
How to take care of a Trek 7100 bike?
Clean It
The most significant thing you can do to extend the life of your Trek 7100 is to keep it clean. It's true that cleaning the frame, saddle, handlebars, chain, and gear sprockets with a soapy water container, a cloth, and an old toothbrush are all you need. However, a thorough degreaser will help dissolve the dirt, grime, and grease that can build up on your bike's drivetrain.
Lubricate It
After you've cleaned your bike, it's important to lubricate the chain and other moving parts to prevent rust and wear. You'll also want to inspect the brakes and tires for wear. If you find any cracks or bald spots, it's time to replace them.
The most common reason for squealing brakes is dirty or unclean brake pads or wheel rims. Cleaning and drying both correctly resolve the issue about 50% of the time. If it doesn't work, they may need to be adjusted.
Your 7100 bike requires regular lubrication to work properly. The protection of lubrification helps prevent wear, corrosion, and rust accumulation on the bike due to high friction. Lubricate the moving metal components in particular. Excessive lubrication, however, may attract dirt particles and must be avoided. Remove any excess lubricant with a dry cloth.
Inflate Tires
Keep the tires inflated to the correct pressure to get the best performance out of your bike. The ideal pressure is usually printed on the side of the tire. You can also find it in your owner's manual. Too much or too little pressure will make pedaling more complex and affect handling.
To avoid a blowout, check the pressure of your tires at least once a week, as well as before and after every ride. If you notice that the pressure is consistently low, take your bike to a shop to have the tires checked for leaks.
Tighten
As you ride your 7100, various bike parts will begin to loosen. Before every ride, check the tightness of all nuts, bolts, and screws, including the handlebars, pedals, seat, and wheels. If any part of the bike feels loose or wobbles, stop riding immediately and tighten it before continuing.
You can use a wrench or pliers to tighten most nuts and bolts, but some may require special tools that can be found at a bike shop.
Inspect
It's essential to inspect your 7100 regularly for any signs of damage, wear, or loosened parts. Check the frame, fork, handlebars, wheels, and tires for any cracks, dents, or bulges. Also, check the chain for any rust or wear and the gear sprockets for any cracks or damage.
If you notice any issues, take your bike to a bike shop for repairs before riding it again.
Store Indoors
To protect your 7100 from the elements and extend its life, store it indoors when not in use. If you don't have indoor storage, cover the bike with a tarp or bike cover to keep it dry and protected from the sun.
Be sure to clean and lubricate your bike before storing it for an extended period. This will help prevent rust and corrosion.
Conclusion
The Trek 7100 appears to be a good hybrid bike for the price. It is comfortable, has quality components, and can handle various riding conditions. If you are looking for an affordable hybrid bike that will provide a good ride, the Trek 7100 may be a good option.