Quick Brief
The front suspension fork absorbs bumps and dips
Locked suspension makes the fork inactive, increasing pedaling efficiency
Dual disc brakes help you stop safely
For great speed and power transfer.
The saddle helps improve posture.
Redfire Mountain Bike Review

Last update was on: November 27, 2023 6:35 pm
The Redfire mountain bike comes with the lockout suspension fork so you can pedal over rough terrain without worrying about having your Bike fall over.
This mountain bike is the perfect size for any rider, especially an adult, with a comfortable seat and lightweight frame.
The Redfire Mountain Bike has an Aluminum frame that is lightweight and strong. It also has a Shimano 21-speed drivetrain for incredible speed and power transfer.
It has a wheel size of 27 1/2 inches, a frame size of 15 1/2 inches, and a seat height of 34 inches. The robust Shimano transmission system offers quick, precise shifts.
Moreover, the Dual disc brakes help you stop quickly. Internal cable routing extends the lifetime of your cables and adds a cleaner aesthetic.
A solid and lightweight aluminum frame ensures durability for those who enjoy cycling. Alloy rims provide lightweight strength, while all-terrain tires provide traction on most dirt, gravel, and pavement. Mountain bikes are ideal for riders looking to conquer a variety of terrain.
The front suspension fork absorbs bumps and dips along your path, providing a more comfortable ride. When your suspension is locked, your fork remains inactive, which improves pedaling efficiency.
Shimano Tourney 21-speed drivetrain with Shimano EF shifters provides quick, precise shifts and powerful Dual disc brakes for safe stopping.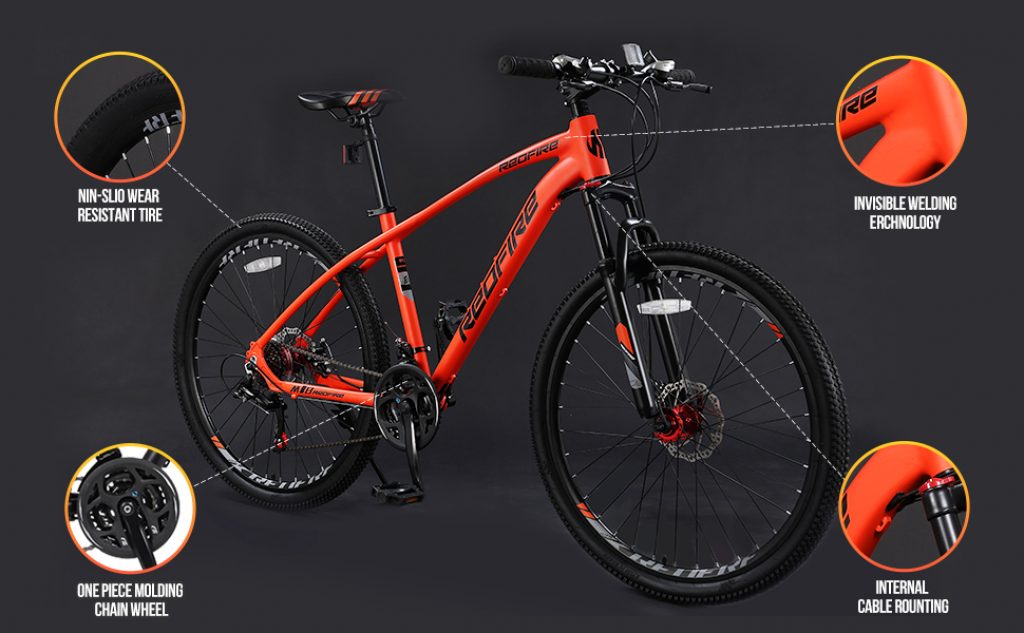 The Redfire Drivetrain is simple to assemble; attach the front wheel, handlebar, pedals, and seat, and inflate the tires. It took about 20-30 minutes to assemble. Additionally, the bicycle includes essential assembly tools.
Furthermore, the saddle features an alloy quick-release seat binder for effortless height adjustment.
Therefore, Add this mountain bike to your cart today and enjoy your ride!
Last update was on: November 27, 2023 6:35 pm
Pros & Cons
Positive
Lockout Suspension Fork
A lightweight and strong Aluminum frame
Frame Invisible welding technology
Easy to Assemble
Easy Saddle adjustment
Dual disc brakes 
FAQs
Is Aluminum Frame Better Than Steel?
While steel is more robust than aluminum, aluminum is lighter. Typically, aluminum frames are constructed from an aluminum alloy, which is less expensive than pure aluminum. However, pure aluminum is much more challenging and durable than an alloy.
How Do You Lock Your Front Fork On A Mountain Bike?
Locking your mountain bike's front fork is critical in ensuring your safety while riding. This can be accomplished in various ways, but the most common is using a fork lockout. This is a mechanism on the fork that allows it to be immobilized. Typically, this requires unlocking the lever on the handlebars and squeezing the brake levers to secure the fork. A quick-release skewer can be used to secure the fork in place.
Is Suspension Lockout Necessary?
Yes, a lockout can accurately simulate the sensation of riding a fully rigid bicycle. A Suspension Lockout is excellent for its intended purpose and can still assist you when switching between trails and riding on flat surfaces.
When using a suspension lockout for vehicles, many benefits come with it. One of the most significant benefits is avoiding an accidental vehicle start-up. When the engine is running, the potential for an accident is much higher. With a lockout in place, it is much more difficult for someone to start up the engine unintentionally.
Is The Seat (That Comes With The Bike) Comfortable? Too Small? Can It Be Replaced With Any Standard Bike Seat?
It looks good but is quite challenging to work with, and my son did not enjoy it. It is easily detachable and replaceable with any standard seat, which we did within the first week of owning the Bike. Perhaps too small for some, relatively narrow. It appears as though the bracket would allow you to swap out the seat. It is replaceable.
Are The Tires Tubed Or Tubeless?.
The tire of the Bike consists of the tube inside.
Customer Reviews
Awesome
53% of the customers on Amazon rated this Bike 5/5 and 22% 4/5; likewise, other customers rated accordingly. The majority of the customers believe that this is an excellent bike with a very smooth, quiet ride.
It Furthermore explained that the same goes for the brakes. Adjust everything!
In addition, others believed that the Bike is easy to assemble in about 40 minutes. Adjusting the shifter and brake cables is very easy. The tire tubes are air-inflatable. Even you can replace tires to increase traction on loose surfaces.
The person who rated this Bike 5 stars showed his expressions like, at the current price, one who purchases this Bike is just a fortune person. It's tough to purchase a bike at this price.
Moreover, another bicycle enthusiast expressed his views like this is one of the high-end bikes and a great purchase.