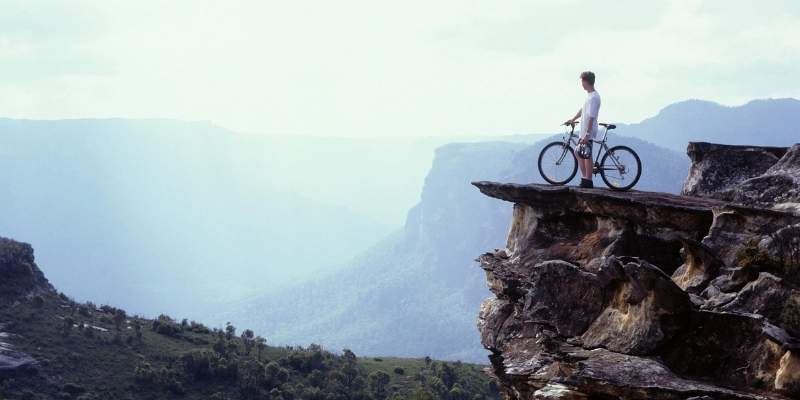 The mountain bikes, aka MTB, are specifically manufactured to ride on off-road areas like downhill, uphill, tracks, trails, and others. The tires of mountain bikes are sturdy, and bikes' speed is comparatively slow than road bikes. Additionally, the mountain bikes' tires are wide and contain powerful brakes which is why they are the best choice for ascending steep hills and mountain biking.
Similarly, it's hard to buy a mountain bike without knowing about the buying features, types, and other numerous things. If someone is interested in buying the best beginner mountain bike, read this guide. Our editors have extensively researched the best mountain bikes and rounded up the ten best for you. But first, let's unveil the necessary information like the best mountain bike brands, types, and others.
Different Types of Mountain Bikes
There are different types of mountain bikes; each one is created with varying disciplines for users. In addition, the types are different because of the suspension system in the cycle. Check out the different types in detail.
Cross Country (XC) Mountain Bikes
The cross-country bikes are manufactured for riders who want the perfect paddling performance. Comparatively, the cross country bikes geometry is like road bikes. These bikes are lung-busting, crushing machines bred for efficiency and endurance. However, cross-country bikes are usually focused on performance and are lightweight. Additionally, these bikes are best for users who want long miles paddling and as well as for those who need a bike for climbing over descending.
Pros
Lightweight mountain bikes
Larger in size
Wheel size is 29"
Longer chainstays and wheelbases
Tires deliver outstanding efficiency and faster rolling resistance
Trial Mountain Bikes
Trail mountain bikes are most people's favorite, are great climbers, and are efficient descenders. It offers excellent suspension, fantastic gravity-oriented components (including chunkier ties), better geometry and is perfect for all-terrain. If you love mountain biking and want to experience both uphill and downhill riding, then pay attention to the trail bikes. It provides terrific drops or jumps and gives users a wonderful trail ride experience.
Pros
Ideal for downhill and uphill riding
The geometry of the bike suits different riding styles
Wheel size is 27.5 and around 29"
Cons
Tires traction, rolling efficiency, and traction are average.
All Mountain or Enduro Mountain Bike
It's most similar to the trail bike and is specially designed for different race formats, including "Enduro." Enduro is where downhill sections are timed and scored on, and climbing is essential. The best all-mountain or Enduro bike is perfect if you want to earn thousands of dollars through paddling up in races and professional sports activities. These also work best in downhill riding if one possesses the required skills and practice. For downhill riding with all mountain bikes, one needs to focus on technical terrain and airtime mind. Also, the Enduro bikes are best for regular laps, shuttle accessed terrain, and other similar jobs.
Pros
It contains more suspension travel as compared to trail bikes
The geometry of all-mountain bikes favors descending to climbing.
Offers long wheelbase and reach
Tires are sturdy, favor aggressive knobs for traction and cornering
Wonderful gravity oriented components
The wheel size is 27.5 and around 29″, sometimes the wheels consist of mixed mullet sizes like the front one contains 29″ while the rear one is 27.5″ size.
Durable bikes
Cons
Not ideal for women
Required ultimate skills to ride
Downhill and Freeride Mountain Bikes
The downhill mountain bikes provide gnarly terrain, speed, big drops, jumps, and steep. These bikes are only created for downhill riding. However, if one is looking for a bike that can be used for hiking, chairlift, and shuttling purposes, then avoid investing your money in downhill bikes. Look for other options. The downhill bike suits those riders who have the ultimate skills to handle tricky downhill areas and likes high-speed riding.
Pros
It contains more suspension travel as compared to trail bikes
Ideal for downhill riding
Durable and thick tires
Cons
The downhill bikes support the low center of gravity
Not ideal for hiking
The Best Mountain Bikes
Mongoose Status 2.2 Mens and Womens Mountain Bike, 26-Inch Wheels, 21-Speed Shifters, Aluminum Frame, Front Suspension,a Black/Red
as of September 10, 2023 9:54 am
Pros
Aluminum Frame with hydroforme
A front robust suspension fork is strong
Wheels size is 26-inch
Sturdy brakes
Lightweight design
Mongoose status bike is one of the best mountain bikes under 500
Cons
Some users find it poorly assembled
Outroad 26 Inch Folding Mountain Bike, 21 Speed Full Suspension High-Carbon Steel MTB Foldable Bicycle, Dual Disc Brake Non-Slip Folding Bikes for Adults/Men/Women, Black
as of September 10, 2023 9:54 am
Pros
The seat of the bike is comfortable
Wheel size is 26 inch
Free paddles
Folding bike design
Contains dual-suspension frame
High carbon steel bike
Wonderful braking system
Affordable and best cheap mountain bike
Hiland Full-Suspension 26 Inch Mountain Bike for Men Women Teenagers, Shimano 21 Speeds, Disc Brakes Blue Orange MTB Trail Bicycle
as of September 10, 2023 9:54 am
Pros
Consist high carbon steel mountain frame
Powerful suspension fork
Serves users the incredible riding experience
Double disc brake system
Shimano 21 speed shifters
Wheels size is 26-inch
Dual suspension fork
18-inch frame
It is the best entry level mountain bike
Schwinn High Timber AL Youth/Adult Mountain Bike, Aluminum Frame, 24-Inch Wheels, 21-Speed, Red
as of September 10, 2023 9:54 am
Pros
Durable
Ideal for trailing
Steady gearing
Required less maintenance
Sturdy wide wheels offer excellent stability
Adjustable seat
Affordable and best mountain bike under $500
Cons
Size is small for tall riders
Schwinn Bonafide Mens Mountain Bike, Front Suspension, 24-Speed, 29-Inch Wheels, 17-Inch Aluminum Frame, Matte Black/Red
as of September 10, 2023 9:54 am
Pros
Consist aluminum mountain frame
Powerful suspension fork
Provides users the enthusiastic ride
Durable
24-speed trigger shifters and front and rear derailleurs make gear changing effortless
Less maintenance bike
Wheel size is 25-inch
Value for money
Mongoose Impasse Mens Mountain Bike, 29-Inch Wheels, Aluminum Frame, Twist Shifters, 21-Speed Rear Deraileur, Front and Rear Disc Brakes, Silver
as of September 10, 2023 9:54 am
Pros
18-inch aluminum suspension frame
Incredible performance
The element suspension fork is ideal in making the ride smooth and controllable
21 speed rear derailleur SRAM twist shifters quickly change gears
Front and rear disc brakes
Sturdy design
One of the best mountain bikes under 1000
Cons
The design has numerous flaws
Diamondback Bicycles Cobra 20 Youth 20" Wheel Mountain Bike, Orange
as of September 10, 2023 9:54 am
Pros
Effortless assembly
Tires quality is on point
Adjustable reach lovers
Great bike for youth and kids, and one of the best beginner mountain bike
It comes with assembly tools
Budget-friendly bike
Cons
Heavy design
Handle grips and pedals are not on point
SIRDAR S-900 27 Speed 27.5 inch Mountain Bike Aluminum Alloy and High Carbon Steel with 2 Replaceable Seat, Full Suspension Disc Brake Outdoor Bikes for Men Women
as of September 10, 2023 9:54 am
Pros
The frame consisted of full aluminum alloy
High carbon steel parts
Sturdy design
Three gears front derailleur and nine gears derailleur serve 27 smooth speed shifting.
Powerful braking system
Excellent shock absorbers are available
Almost assembled bike
Cons
The size of the bike is small
Best Mountain Bikes Brands
Specialized
The brand "Specialized" was founded in the early '70s; since then, they have continuously manufactured quality, durable, and classic mountain bike models. The first Stumpjumper that Specialized manufactured was in 1981, also the first mass-produced bike of the world.
Recently, the brand launched Turbo Levo SL-ultralight electric MTB that is 10 pounds lighter than the Stumpjumper. Similarly, the brand launches innovative and best electric mountain bikes that give ultimate enthusiasm to the users.
Santa Cruz
The mountain bikes from Santa Cruz always contain outstanding quality and are innovative. Significantly, the brand is well known for manufacturing the best full suspension mountain bike that performs perfectly in challenging areas. The founder of the Santa Cruz brand is "Rob Roskopp" who was the fists who introduced the rear suspension trail bike at that time.
Additionally, the brand is also known for supplying lightweight bikes containing aluminum and carbon fiber material that includes a variety of suspension range. They primarily focus on trail-style models, but their collection contains gravel, jumps, and electric mountain bikes. Moreover, their exemplary models are Bullit, V10, and Nomad.
Juliana
The Brand Juliana was introduced in 1999; the motto was to manufacture outclass and best women's mountain bikes. The geometry of Juliana bikes was developed by the brand's sibling company Santa Cruz. Similarly, each model is designed for lightweight riders; that's why the frame size is XS.
In addition, the Juliana mountain bikes contain saddles and grips that serves convenient for women riders. Therefore, women interested in buying a lightweight and durable mountain bike than pay attention to the Juliana Brand. Their famous models are Furtado and Roubion.
Bakcou
Sports enthusiasts founded the Brand Bakcou; that's why their bikes are unordinary and unique. Their bikes are beasts that can go through any obstacle and ride smoothly in more challenging areas. According to sportspeople, the Bakcou bikes are one of the best mountain bikes.
Ibis Cycles
Ibis was launched in the late '70s, founded by Scot Nicol Dove. It is one of those brands that was the first took start manufacturing the ultimate mountain bikes.
The brand focuses on manufacturing well-crafted and best-tailored designs that suit only professional riders. Similarly, Ibis's one of the best full suspension mountain bikes is Carbon Mojo, specially designed for enduro racers.
GT Bicycles
The brand GT Bicycles was founded in 1972 in collaboration with BMX frames. The bikes from GT Bicycles offer budget-friendly designs that suit the users with a tight budget but possess a passion for mountain biking.
Additionally, the GT bicycles are one of the best mountain brands that introduced the first-ever carbon gravel bike called "Grade Carbon Pro" in 2015. The brand also offers lightweight, full suspension, electric, and best hardtail mountain bikes.
Trek Bikes
Trek Bikes started manufacturing mountain bikes in 1975; they first launched the best touring bikes and then focused on advanced versions. Today, the brand is well known worldwide for formulating the best hardtail mountain bikes for smooth and accessible trails. Their designs contain different prices and features that can suit numerous various riders accordingly.
Similarly, their collection includes electric mountain bikes, full suspension downhill bikes, lightweight racing bikes, higher-end trail bikes, and others. The frames and construction quality are on point for Trek bikes; that is why their mountain bikes can effortlessly go for long years. Therefore, the famous and best-selling models of Trek bikes are Marlin 5 and Roscoe 8.
What Type of Mountain Bike Should I Buy?
The different types of mountain bikes are available in the market, categorized by geometry, suspension travel amount, riding nature, and others. We have mentioned above the kinds of bikes, from which one can get an idea which one he needs or which one is suitable.
What to Know About Suspension?
Modern suspension is ideal that offers smooth rides, a stable pedaling platform, and convenience to challenging areas. Similarly, if you are a beginner, it's essential to go for air suspension, as it allows you to tailor the sag to your weight. The dual suspend sin in hardtail bikes are also suitable for beginners bikers. One can get a straightforward, efficient model of dual-suspension hardtail bike at a similar price to a full-suspension bike. Additionally, the hardtail bike would help you develop more vital skills and grip on your bike and make you a polished rider.
How Much Should You Spend On Your First Mountain Bike?
The numbers of dollars cannot decide which one is the best mountain bike you should go for, but the features, durability, design, performance, and others matter. Similarly, you need to be very clear initially about your choices, preferences, and needs. The bike you are interested in buying must contain all the ultimate features and should perform ideally. Similarly, numerous models are available, categorized by types, features, and prices. The more you pay, there is a vast chance you get an authentic mountain bike. However, if you end up spending a few dollars like you buy a mountain bike for 500$, then there are vast chances you get to spend a lot of dollars in the future on the repair and maintenance of the cycle accordingly.
Therefore, most professionals recommend spending a heavy amount on quality mountain bikes that can save your day-to-day hassle and provide you with a long-lasting comfortable mountain bike. In addition, when buying the mountain bike, try to invest in the protective gear and other relevant stuff, including helmet, gloves, pedals, multi-tool, track pump, and shock pump. So, whenever you buy the mountain bike, buy these necessary items too to save yourself from future hassles.
Which Mountain Bike Type is Best?
If you are an enthusiast rider and don't care about the challenging areas, injuries, and other obstacles, then the downhill mountain bike is best. However, if you are a marathon runner who doesn't like to be injured, XC bikes would suit you better. The enduro bikes are also satisfying for you if you want to move quickly and want to gain exceptional fun. Therefore, the best type is always dependent on the needs and nature of riding you are opting for.
Conclusion
Therefore, when you search for the best mountain bike, choose one that can offer you the desired enthusiasm, comfort, excellent experience and are not too expensive. I hope you like the above-mentioned Amazon's best-selling mountain bikes, pick one according to your preference.
Keep Riding