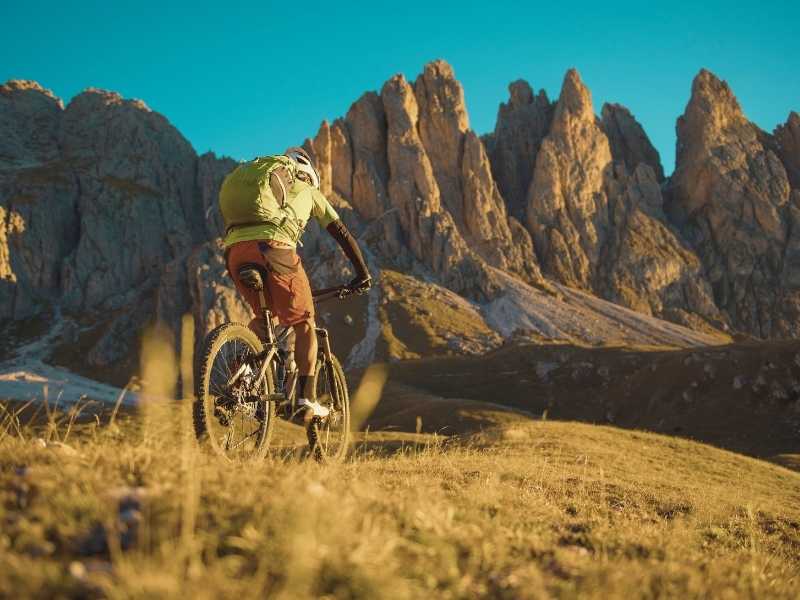 New mountain bikers often misunderstand Cross-country (XC) mountain biking and trail mountain biking because of the vast differences between the two types of riding. They appear to be indistinguishable at first glance: they both ride trails, use similar bikes, and compete. These two mountain biking styles are vastly different from one another. Look at that.
What Exactly Is XC Mountain Biking?
It's hard to explain, but what is XC mountain biking? Short version: It's an extreme mountain biking that emphasizes endurance over technical challenges like negotiating rugged terrain or complex, obstacle-ridden descents.
A fast downhill doesn't mean that XC riders don't care about completing the trail in the shortest possible time. When climbing, XC racers work hard and then focus on speed when going downhill instead of looking for the most challenging route.
Here are some other differences between XC and trail riding to help you better understand XC and what to look for in a good XC bike:
What Are the Types of XC Races?
Downhill mountain bike (DMB) races differ significantly from cross-country races in how they are conducted. During downhill races, each rider competes in a one-on-one race. Runners in cross-country events typically begin at different times so that they can all compete at the same time.
It's not just mountain bike races with specialized cross-country races.
Olympic cross-country
Olympic cross-country racing (also known as XCO) is a mass-start event where riders compete in multiple laps around a track. Spectators and any friends and family who come to watch will appreciate how many opportunities they have to see the riders.
A typical cross-country racecourse is likely to include a mix of ups and downs and stretches of flat singletrack. 4 to 5 kilometers per lap is a standard distance for laps in most races.
Every race will have a predetermined number of laps, and the winner will be the first to cross the finish line. Depending on your age and previous experience, you may be able to complete more or fewer laps. The elite riders will do most laps, typically six to eight, with a total race time of around 90 minutes. Races can last anywhere from 30 to 80 minutes, depending on the skill level of the competitors.
Riders can get assistance from mechanics in two areas on the course: the technical and the feed. For example, you could fix or replace a flat tire or grab water bottles and race food as they fly by.
If you get a puncture just after a technical area, you'll have to walk (or jog, if you're very fit) to the following technical zone to receive assistance.
The winner is always the first rider to cross the finish line, but there are also races where the top three finishers receive ranking points. Riders can move up to the next category with enough points in their rankings. This means longer races and a more competitive field.
Sport is the first level of the British Cycling category system for adults in the United Kingdom, progressing to Expert and Elite.
Marathon events
Marathons are mass-start races like cross-country at the Olympic level, but they cover much greater distances than those events. The distance can range from 40 kilometers to 140 kilometers for the most challenging events.
Climbing, descending, and flat singletrack will be featured in this year's route. For example, climbs and descents in the Alps can take up to an hour or more due to the course's extensiveness and steepness.
While most marathons are one-lap affairs, there are a few exceptions where the race is broken up into multiple 30-kilometer laps.
There will be technical and feed zones, similar to those found at shorter XCO events, where you can refuel and address any mechanical issues. However, due to the longer distances covered in XC marathons, athletes tend to be more self-sufficient and bring extra gear.
XC Eliminator (XCE)
The last two riders across the finish line are out of the race.
What's so good about cross-country racing?
Cross-country mountain bike racing is an actual test of your overall ability. In addition, you must be able to race full-throttle up the hills simultaneously.
XC racing is a lot of fun because you're racing against other cyclists elbow-to-elbow. After a nerve-wracking start, the field spreads out and relaxes during the middle of the race.
For all its "serious" connotations, cross-country racing is quite approachable, especially for smaller, regional events.
During a race weekend, it's not uncommon to see entire families competing in different divisions of the same race.
Cross-country races can take you to some spectacular locations, so you never know where your journey will take you if you venture outside your local competitions.
What Trails and Paths Do XC Riders Use?
Cross-country bikers, despite their appearance, actually ride on trails. Typically, the tracks they travel on are either single track or fire roads, depending on the type of train. Cross-country bike riders prefer a variety of terrain, including hills, twists, and jumps. There aren't many steep hills to contend with. Cross-country racers compete in various events, from sprints to marathons.
On the other hand, Cross-country riders prefer a more laid-back approach to their sport, preferring a more laid-back approach to downhill or trail riding. They're more likely to race each other up hills or a certain distance for the fastest times in cross-country racing.
So, in general, XC riders prefer to ride on the less challenging trails.
What Equipment Do XC Riders Use?
You begin to see a distinct difference between the various types of mountain bikes.
Lightweight cross-country bikes are standard because they don't have to deal with many bumps in the road. The front suspension forks on these bikes typically allow for about 4 inches of travel. Anywhere from a hardtail to up to four inches of travel is possible for the rear suspension, as minimal as zero travel.
Cross-country mountain bikers travel less upright than downhill mountain bikers due to their desire for speed, and the frame's geometry reflects this.
Cross-country bikes typically have 29-inch wheels. The majority of mountain bikes currently on the market have 29-inch wheels. Cross-country tires differ from downhill mountain bike tires in that they are thinner. Cross-country tires typically have a width of fewer than 2.2 inches.
It's essential to choose the right size mountain bike and fine-tune it to get the most out of it, but there are numerous options available, ranging from tire size to seat height.
Remember that the most important thing is to be prepared if your bike breaks or gets hurt. It's good to keep a first-aid kit and a repair kit in your backpack.
What else do you need for cross-country racing?
Cross-country racing requires very little equipment for those just starting. It's OK to start with your regular bike helmet and cycling gear.
Pedals and shoes with clipless technology, Lycra clothing, and XC-style helmets may become more desirable as the sport becomes more competitive.
As a result, you'll likely climb the leaderboard due to using these items to your advantage.
How Much Does the Equipment Cost?
Cars and bicycles have similar price ranges. Just as a Chevrolet and a Ferrari are opposed in price, so too are Walmart bikes and Trek bicycles. They don't know each other.
In any case, I'll do my best to provide you with an estimate of the costs you're looking to incur.
What do XC bikes cost?
The ideal 29-inch wheel for you is light and fits your riding style.
One of the most expensive xc bikes is the Trek, which can cost up to $10,000. Unless you are a professional, I recommend looking for something less expensive, especially when just starting.
It's worth the money to buy a Cannondale xc bike from REI. Instead, I said a good deal when they have a few under $2,000, one going for under $1,000. I didn't say cheap. The Cannondale Trail 5 costs $1000 and has 29-inch wheels, making it the best value for money. One of the best-known brands in the industry is
In addition to an excellent selection of bikes, Bike Mag offers a few valuable comparisons. If you're getting into cross-country biking, you may not be able to afford one of these bikes, which start at around $3,500.
XC Mountain Bikes vs. Downhill Mountain Bikes
Cross-country bikes serve a different function than downhill bikes when compared side by side.
Cross country riders ride over relatively smooth paths, so they don't need the same suspension systems, but they do go for the fastest times, so the need to be more streamlined means the frames angle down on the riders a bit more.
The seat posts on the two types of bikes are also different. The seat posts on cross-country bikes are typically aluminum, whereas the dropper posts on downhill bikes are made of carbon fiber.
Can you ride a trail bike cross-country?
Cross-country riding is possible on a trail bike! Your riding will always be more enjoyable if you have the right bike for the conditions. On the other hand, trail bikes fall somewhere in the middle between pure cross-country bikes and downhill bikes, which aren't made for cross-country use and have a difficult time climbing.
Features
When used for cross-country, trail bikes' suspension and geometry can be a hindrance rather than a help. There are issues with the suspension and geometry. Cross-country riders will appreciate the suspension lockout and dropper seat posts, however.
Terrain
Are you interested in any specific types of cross-country riding? Trail bikes aren't as well-suited to long-distance travel as cross-country bikes, and you may feel exhausted as a result! On the other hand, a trail bike is an excellent option for shorter riders and those with a mix of terrain that includes steep descents and more technical riding.
Conclusion
In comparison to trail riding, XC mountain biking has its own set of challenges, but ultimately it comes down to taste. Ride XC for the unique challenges it offers thrill-seekers and trail riders. Others ride XC to hone their trail-riding skills and develop their fundamental mountain-biking skills.
It doesn't matter why you want to learn how to ride a mountain bike over rugged terrain in the backcountry; XC mountain biking is an excellent method. There are more opportunities to learn the trails in XC than in trail riding. XC is a great place to start if you're new to mountain biking and want to get familiar with the sport.