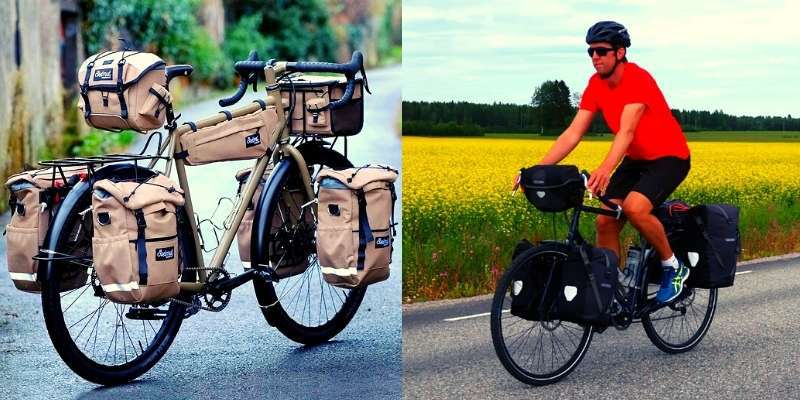 They're both built for adventure. On the one hand, traditional touring bikes are restricted to tarmac and pavement rides, whereas the right trekking bike can go further and carry all of your equipment.
The Trekking Bike is the perfect vehicle if you enjoy the great outdoors and want to take in all the natural beauty. Whether you're a beginner or advanced rider, a Trekking Bike is the perfect way to explore the world around you.
While if you want a bike that you can ride on and off the road but still be able to take care of your stuff. With a touring bike, you can do it all. And it looks good while you're doing it. It's the perfect balance of style, performance, and versatility.
Moreover, if you want to know more in detail, keep reading this post.
Touring Bike Vs. Trekking Bike
The main difference between touring bikes and trekking bikes is that touring bikes are designed for long-distance travel, while trekking bikes are designed for off-road use. Trekking bikes typically have wider tires and a more robust frame than touring bikes, which allows them to handle rougher terrain. Trekking bikes also tend to be heavier than touring bikes, making them more difficult to pedal over long distances.
Typically, a Trekking bike has wider treads intended for off-pavement use, while touring bikes typically have narrower tires without tread.
Generally, trekking bikes, on the one hand, are better suited to light touring and biking adventures. Because they are generally less durable than traditional touring bikes, with geometries ranging from road bikes (which are less comfortable for long days in the saddle) to touring bikes (which have a very upright riding position and additional on-bike comfort), on the other hand, everything in between touring bikes is purpose-built for hauling gear via racks and bulky panniers.
Touring bikes generally have a bigger gear range both for climbing and descending. Some trekking bikes are only good on the largest gears and can lack when it comes to slow, steep climbs. Making sure you choose the best trekking bike for your adventures is a must!
What Is A Touring Bike?
Touring bikes are great for long-distance tours, but they're built to last. They have a long wheelbase and a steel frame. Gravel bikes are designed for speed, while touring bikes are built for comfort.
They're all built primarily for paved roads but can handle a dirt track or gravel road if need be. Smoother tires are an option if you ride primarily on paved surfaces.
Most of them have steel frames, wide gearing, non-aggressive riding positions, pannier racks, or rack mounts.
A Higher quality touring bike is outfitted with strong wheels that are less likely to break under heavy loads on rough terrain.
What Should You Look For When Purchasing A Touring Bike?
There are many different types of bikes available for touring. You must buy a bike based on your budget, how frequently you intend to ride, and how far you intend to travel. Steel is a strong but heavy metal.
A good quality steel frame should be sturdy and long-lasting. A bicycle designed for touring should have a relaxed geometry, a longer wheelbase, and a longer chainstay. Panniers should be mounted without a chance to clip the cyclist's heels.
The bicycle rack should distribute weight evenly. Touring bikes use low-weight wheels and aerodynamic designs. Touring bicycles have a lot more than just two wheels. T
Tires can be made with narrower or wider treads. Touring bikes traditionally used rim brakes. Disc brakes are now more common than them on the best touring bikes.
Adding disc brakes reduces the risk of the rim becoming worn through debris building on the pads. However, not everybody likes the appearance of a disc brake on a traditional steel machine. Luggage and Lights A Purpose-Built Touring Bike will include Pannier Racks, Fenders, and possibly even built-in lights on a Touring Bike.
What To Look For In A Trekking Bike?
Before purchasing a trekking bike, it is necessary to look for a sturdy frame (most frequently steel or aluminum) that will absorb road imperfections and support the weight of accessories. Wide and cushioned tires for increased grip and safety, a comfortable saddle for long hiking hours, a luggage rack at the rear, or even a second at the front.
Are Trekking Bikes Good For Touring?
Trekking bikes are more comfortable for long-distance touring, while others prefer a traditional touring bike with a more relaxed riding position. Trekking bikes can be good for touring if fitted with panniers and other luggage racks, but they may not be as stable as a traditional touring bike when fully loaded.
Trekking bikes typically feature wider tires that provide more stability and shock absorption than traditional road bikes, and they often have frame designs that allow for greater carrying capacity.
While touring bikes have narrower tires and slim frames.
Conclusion
Therefore, trekking and touring bikes are similarities and differences concerning their geometry and functioning. Trekking bikes typically have a more robust frame and fork, and they are often equipped with off-road tires and other features that make them better suited for rough terrain. Touring bikes are typically lighter and have narrower tires, making them better suited for riding on pavement.