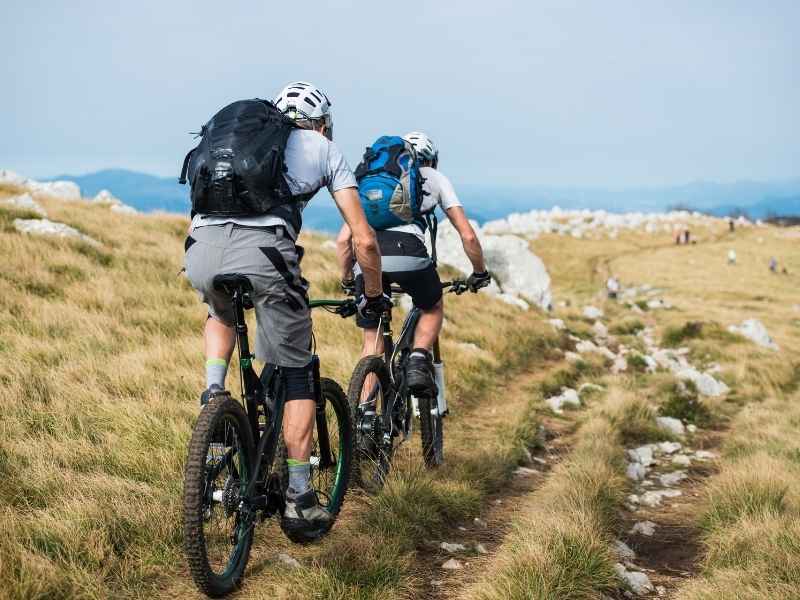 In general, the price of a road bike is double that of a mountain bike. The reason behind this is that road bikes often employ lighter carbon fiber materials and pricey groupsets, whereas mountain bikes use sturdy materials that cost significantly less.
Considering how frequently mountain bikes are broken, you'd expect the manufacturers to provide excellent guarantees on their mountain bike parts. Parts and labor costs will be affected as a result of this.
The manufacturers of mountain bike components can offer them for less money if they are willing to replace your broken components for free. That makes mountain bike components significantly more affordable than road bike parts.
Road bikes aren't typically used on the same types of terrain as mountain bikes, for example. In other words, road bikes have bike parts that are designed to last for quite a long time. These bike parts need to be lightweight yet robust enough to handle the forces exerted by the user when pedaling at speed.
You will discover that road bike manufacturers sell their bikes for about twice what they have to pay to produce them. However, as the market for quicker and lighter road bikes expands, the cost of these bikes rises every year.
Why Are Mountain Bikes Less Expensive Than Road Bikes?
Road bikes are substantially more expensive than mountain bikes, and that's because they are manufactured from more expensive and high-quality parts and materials than mountain bikes.
Road bikes start at $900, but higher-end ones can cost up to $13,000 or even $15,000, depending on the type.
On the other hand, medium mountain bikes start at $500 and go up to $10,000 or $13,000 for more powerful models.
But you must remember that the more money you pay, the better quality the bike will be.
If you're looking for a bike solely for recreation and short 25–30 miles journeys, then a $400 bike should suffice.
If you seek a better quality bicycle that can ride between 50 and 60 miles, a $1,000 bike could be appropriate for you.
You'll typically need a bike that costs between $2,000 and $15,000 if you're a competitive rider who competes in races.
What Is the Average Cost of Owning a Road Bike?
Frame Material
Carbon fiber is a more flexible and lighter material than other materials and is used in the most expensive road bike frames. Due to this, the more expensive road bikes will be made from carbon fiber, which might be twice as expensive as other materials.
Steel bike frames are less expensive but more cumbersome. The second choice for road bikes is titanium due to its strength and weight, similar to steel.
A road bike's parts and pieces
A road bike's brakes, derailleurs, and levers are unavoidable. The pricier models have better quality, lighter, smoother, and more durable components.
For example, Shimano 105 or Shimano Tiagra groupsets, commonly seen on road bikes, normally cost around $600 (£450). However, this group set is priced at about $1350 (£1000) by Shimano. However, the price won't even come close to the Campagnolo Super Record Groupset, which costs more than $3,100 (£2,200).
A set of wheels for a road bike
Anywhere from $350 (£250) to $8,000 (£6000) or more for a set of road bike wheels is not unheard of. Those wheels often cost more than the bike frame itself.
Accessories
Accessory components such as water bottle cages, clipless pedals with wattage meters, and even electric gears and brake systems can run hundreds of dollars on more expensive road bicycles.
Conclusion
Buying a road bike is an investment. At least, in this case, you get what you pay for when it comes to bikes. The more expensive ones are made with better materials and are lighter, so they'll help you perform better overall.
An expensive road bike may be the better choice for those who don't mind spending a little more but want a bike that can handle any terrain while still achieving respectable speeds on any surface.