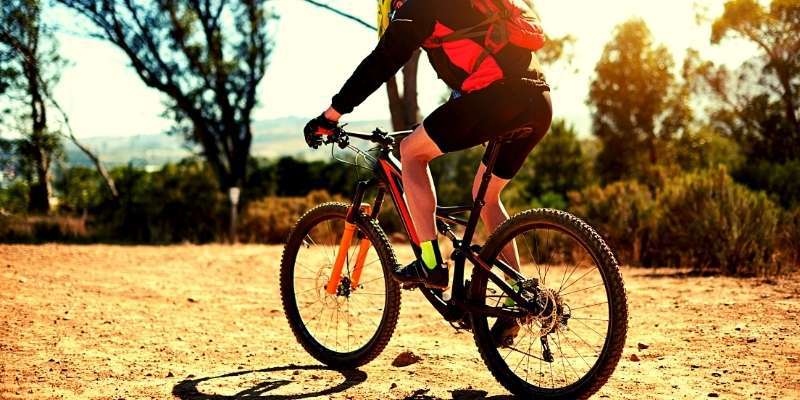 Owning a mountain bike that can effortlessly tackle different trails nature is quite uneconomic for most riders. It demands you spend thousands of dollars on the ideal bike. On the other hand, not all mountain bikes cost you an arm and a leg; some of them are the best budget mountain bikes on the market. But, numerous cheap manufacturers cut too many corners and provide the average most affordable mountain bikes.
Riders who don't want to compromise on the bike's performance on different challenging trails should avoid those average cheap bikes and look for the one that consists of all ultimate features and is also available at an affordable price. Similarly, you need to pay full attention when buying the best cheap mountain bike.
By reading this bike value guide till the end, you can find the 11 best recommendations for the best mountain bikes for the money that won't break your bank and also would deliver on-point performance all the time. So, let's check out the mentioned products and pick one that suits your needs ideally.
The Best Budget Mountain Bikes
Here is the list of 11 best budget mountain bikes:
The Mongoose is one of the best value mountain bike brands that offer quality bikes to enthusiasts riders. The same goes with the Mongoose switchback adult mountain bike; it provides spacious geometry, 3 x 7 drivetrain for 21 gears, sturdy 27.5-inch wheels, and an attractive design.
Because of the spacious geometry, the bike is ideal for daily commuters as they can keep stuff like bags and others in the triangle frame. The only obstacle with the Mongoose switchback best budget bike is the lower gears function. Sometimes it gets difficult for lower gears to stay in place. But, rest, everything is amazing, and the bike is perfect for the money.
Pros
Versatile bike
Offers 21 speeds
Spacious geometry
Sturdy 27.5-inch wheels
Cons
The frame is a bit heavy
Lower gears don't work properly
---
For those looking for a versatile bike, the Schwinn High Timber mountain bike is best suited to you. It is not just limited to the trails but also is perfect for roads and your daily commuting. The manufacturing quality is on point as the steel frame is durable and can effortlessly last for many years.
In addition, the bike is free from flimsy brakes; it consists of disc brakes and 21 gears (operated with twist shifters on handlebars) that offer safe travel time to the riders. Moreover, the seat is comfy and adjustable; additionally, the bike tires consist standard size of 26 inches. Hence, it's one of the perfect examples of the best mountain bike for money.
Pros
Multiple sizes are available
Durable design
Disc brakes
The seat is easy to adjust
Alloy wheels increase the stability
Hiland Aluminum mountain bike is specially designed for women riders whose priority is a lightweight and durable bike that can offer versatile performance. Likewise, the frame of the Hiland bike is small and created with aluminum materials.
The cycle consists of sturdy 26-inch wheels, disc brakes, basic triggers shifters, a comfortable seat, locale front suspension, and others. Hence, it's one of the cheapest mountain bikes that one can get at just $399.99.
Pros
Ideal for all kinds of terrain
Women-specific frame
Affordable bike
Available in other sizes
Disc brakes
Decent design
24 speeds
Cons
Low-quality components
Unreliable shifters
Schwinn S29 features trigger shifters, 21 speeds, front and back disc brakes, sturdy tires, full suspension, and an aluminum frame.
Additionally, it's an excellent choice for men who love exploiting challenging trails and want to experience every bit of mountain biking all the time. Of course, having these features like dual suspension and aluminum frame increases the mountain bike price, but Schwinn S29 is comparatively inexpensive.
Pros
Ideal size
2.1-inch tires
Disc brakes
Full suspension
Cons
Heavy design
Need assembling
The Neffice mountain bike for men is filled with numerous beautiful benefits that an upright bike must contain. When one knows the features, he thinks the mountain bike price is thousands of dollars, but trust me, the Neffice bike costs you just $259.99.
It consists lightweight 6061 aluminium frame, trail-specific geometry, powerful disc brakes, 24 speeds, 2.1 inch wide tires, ergonomic, comfortable saddle, and others. Moreover, without breaking the bank, one can purchase these best affordable mountain bikes at a reasonable rate. Hence, it's also suitable for off roads, trails, and flat terrains.
Pros
Available in wonderful colours
High-quality aluminium frame
Disc brakes
Knobby 2.1 wide tires
24 speeds
Highly affordable bike
Easy to assemble
Cons
Brakes need adjustments
Cheap metal components are included
The reasonably cheap Vilano Blackjack 3.0 is an incredible mountain bike for price and performance. It's also one of the top-rated bikes on Amazon. Additionally, the bike offers 29-inch double-walled wheels, a stylish design, Shimano components, 24 gears, an aluminium frame, a suspension fork, etc. Hence, it is one of the best mountain bikes under $500.
Pros
Aluminium frame
Suspension fork
Front and back disc brakes
Stylish bike
Easy to assemble
The Schwinn Mesa Adult mountain bike is manufactured with high-quality materials and offers unbelievable value. It features wide knobby tires, 27.5-inch wheels, disc brakes, entry-level front suspension, Shimano 21 gears, etc. This bike is recommended for beginners who are learning off-road and mountain riding.
Pros
Disc brakes
27.5-inch wheels
Ideal bike for beginners
Versatile
Durable
Lightweight
The MTB collection of Mongoose bikes is always the rider's favourite. Similarly, this Mongoose fat tire mountain bike is famous among riders because of the performance it delivers. With Mongoose Malus fat tire mountain bike, it's possible to get beautiful experiences on trails.
Additionally, the features include mechanical disc brakes, knobby 4 inch wide wheels, steel frame, offers 1×7 derivations operated with Shimano rear derailleur, 7 speeds, and stylish design. Moreover, these bikes are durable, sturdy, and attractive; one can never regret buying these Mongoose Malus best affordable mountain bikes.
Pros
Disc Brakes
Knobby 4 inch wide tires
Value for money
Great for mountain riding
Cons
The steel frame makes the bike heavy
Add this lightweight Eurobike G7 folding mountain bike to the collection of your bike and impress your friends with its excellent performance adequately. The motorcycle offers a sturdy frame, thick tires, comfortable, smooth ride, and unending enthusiasm on all kinds of terrains ideally. Therefore, Eurobike G7 folding mountain bike won't cost you an arm and a leg, as the bike is available at an incredibly affordable price.
Pros
Lightweight design
Comfortable ride
Ideal for roads and terrain
Cons
Not made for challenging terrains
The crazy nature lovers who start their day by riding the bike in the wild downhills and uphills and find peace in doing these sorts of adventures would need a 2021 Gravity FSX 1.0 mountain bike. It features full suspension, sturdy design, disc brakes, double-walled rims, etc. The bike is not so expensive; similarly, one can buy it for just $499.95.
Pros
Available in different sizes
Full suspension mountain bike
Perfect for all kinds of terrain
Value for money
Cons
Requires assembling
Tires are not thick enough for trails; one needs to replace them for best performance.
Get your hands on this durable and unbeatable Schwinn Bonafide mountain bike for men. It is formulated with high-quality, durable materials that increase the bike's life for numerous years.
Additionally, the bike's overall design allows comfortable rides, especially the saddle and grips. Hence, the Schwinn bonafide bike handles flat terrains ideally and serves the riders with comfortable riding experiences.
Pros
Robust design
Built to last for long
High-quality design
Perfect bike for roads and regular commuting
Cons
Not ideal for mountain biking
Factors to Consider When Buying Cheap Mountain Bike
Price
The price comes first when one decides to buy the best budget mountain bike; similarly, you need to focus on the products that match your price range. Then, after reviewing numerous products, one can choose the best that meets all the requirements. For example, if you opt for a carbon steel frame for the bike, it would be a bit pricey. Whereas choosing aluminum material won't break your bank. Also, the difference is not much visible.
Material
When you buy a less expensive mountain bike, it consists of less quality material. Therefore, you can not simply get the carbon steel bike at affordable rates. However, the aluminum and steel frames are ideal for the best affordable options. Additionally, steel frames are cheap but not durable, as steel is more prone to rust, so avoid buying accordingly. Therefore, go for the aluminum frames that are lightweight, durable and also ensure shock absorption features in the bike.
Durability
When buying a mountain bike, you aim to pick the product that can offer numerous years of usability and service. Otherwise, it's a loss of money to get your hands on the expensive and flimsy product. To verify the product is durable or not, check the material and construction quality. Mostly, aluminium frames are durable; they are lightweight, so it's the best choice among riders. Comparatively, the steel frames are more durable and quickly go for long years, less prone to rusting, but heavy.
Apart from the frame's material, check the quality of other bike components, including the saddle, pedals, grips, and others. You will ride these bikes on challenging tracks, so the bike you are buying should be on point and offer durability.
Shock Absorption
Well, when you are on a tight budget, it's obvious you won't get all the ultimate features like shock-absorbing carbon frames and others. But, some of the models offer an aluminum frame containing carbon for the ideal to absorb the shocks. It is the best affordable option that one can go for compared to a carbon frame. Also, the aluminum frames with a carbon fork do the job effortlessly and make the ride comfortable, free from shocks and vibrations.
Gears
Usually, mountain bikes consist of a wide range of gears because these bikes offer versatile riding services on different terrains. Similarly, the lower gears assist in tackling the climbs, whereas the higher gears ensure the smooth-riding experience on the flat terrain.
So, one needs to look for a bike that consists of a wide range of gears for versatile riding. Additionally, check whether the gears are working correctly before finalizing the product.
Wheel Size
The mountain bicycles are available in different wheel sizes, i.e. 26, 27.6, and 29 inches. A bike with 26 inches wheel size is more likely to control adequately than a 27.5 and 29 inches wheels bike. Similarly, entry-level bikers should go for the 26-inch wheel size. At the same time, 27.5-inch wheels allow versatility in the bike and are ideal for trails; however, they are tricky to control. At the same time, the 29 inches wheel size is perfect for tackling obstacles and best suited to professional mountain riders. So, pick the wheel size that suits your nature of riding and style.
Brakes
The brakes must be on point and sturdy when dealing with dangerous terrain. One cannot afford the failures of brakes when riding in challenging areas. Similarly, it is mandatory to invest in a bike that offers a beautiful braking system that can easily make the bike under the rider's control. There are two popular brakes the mountain bikes include; one is rim brakes, while the other is disc brakes. The Disc brakes are comparatively superior and offer excellent stopping power when required. Whereas rim brakes ensure a solid grip but are not something to trust. If you buy a mountain bike consisting of rim brakes, it's better to replace its braking system and install disc brakes. Hence, the security can not be negotiated.
Ratings and Reviews
When buying mountain bikes online, it's essential to check the product in detail. One must analyze the features critically and go through all the mentioned customer reviews. The rating also plays a critical role in highlighting the product's worth. The high the rating is, the more the product is worth buying. Hence, reviews and ratings are the best way to judge the product when shopping online.
Tires
Best if the tires are sturdy and wide enough to offer smooth rides. Also, the top-quality tires are ideal in giving fine control and stopping options to riders in challenging weather conditions. The tires consist of perfect size in our mentioned bikes and are wide enough to transform your regular rides into convenient ones. So, pay attention to these bikes and buy one of your favourites accordingly.
Are Full Suspension Mountain Bikes Worth it?
When buying budget bicycles, the most popular are hardtail bikes. Because full suspension bikes are expensive and cost you thousands of dollars. However, very few mountain bike brands, including Marin and Giant, offer the cheapest bikes having rear and front suspension.
If you desire to buy full suspension bikes, it would cost you an arm or a leg accordingly. Therefore, the hardtail mountain bike is the best alternative to a full-suspension bike; you can observe the almost similar performance at an affordable price.
Are Budget Mountain Bikes Good?
Yes, one can purchase the best value mountain bike without spending thousands of dollars. You don't need to compromise on the necessary features, including the air-sprung fork and tubeless wheelsets. Most people think the best affordable bikes could not perform well and are not ideal for mountain riding.
Whereas it's not true, you can get efficient, good cheap mountain bikes that effortlessly offer excellent performance all the time to riders. The budget bikes include ideal rim width, high-speed stability, climbing comfort, and stylish design. Thus, it's never a loss to buy an affordable bike and enjoy wonderful riding experiences when on a tight budget.
How to Improve the Performance of Cheapest Mountain Bikes?
As you see, the mountain bikes that one buys at $1,500 would indeed consist of ultimate quality features, durable components, and deliver a wonderful experience. However, when you purchase an affordable off road mountain bike under $1000, it may not consist of high-quality tires, durable components, and maybe are not capable enough to perform well on different terrains.
Similarly, it's better to upgrade your budget bicycle a little bit before riding it in challenging areas. For example, the bike tires play an essential role in making the ride comfortable and joyous. However, if the tires are not sturdy, try replacing them with wide and robust tires. Additionally, components like saddle, pedal, and brakes can be low quality in the budget bikes, so one needs to check and replace if the bike could not offer desired performance.
How Much Should I Spend on My First Mountain Bike?
To purchase a high-quality beginner mountain bike, one must spend at least $2,000 to $2,500. The more efficient bike you need, the more money you need to pay. Similarly, the price depends on the bike type, nature too. If you are buying a professional mountain bike, it may break your bank. Well, don't worry, one can buy the standard mountain bike within the range of $1000.
In addition, we have mentioned some of the cheapest MTB on the list that you can get each by spending only $500. So, it's possible to get a bike on your budget now with quality features and durable components. Therefore, it's essential to research the best budget bikes before investing in one so that you buy the ideal product.
Conclusion
Numerous mountain bikes in the market are available, whereas every bike is different according to type, performance, price, and features. If you are on a tight budget and want to invest in the cheapest mountain bikes, you need to look for low-cost bikes first and choose one from them. We have made it simpler for you and shared the 11 best budget mountain bikes for you in this detailed bike value guide. Choosing the one from the given list won't disappoint you in the future.
We hope that you find the bike that suits your budget and needs and start experiencing the incredible riding experience on all kinds of terrains.
Lastly, please share your thoughts in the comments section below about mountain bikes and tell us which bike you find perfect on the list.
Thanks