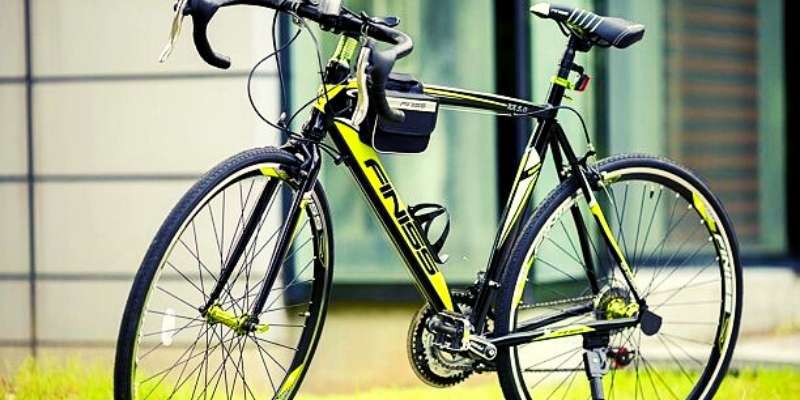 The Finiss is the best all-around bike, perfect for beginners, amateurs, and extreme racing and road biking. The lightweight and robust frame can bear riders up to 330 pounds and comes in different sizes and colour schemes.
You have plenty of options for the colours and designs of this Finiss bicycle. You can choose between attractive two-tone designs: red and white, green, and black, yellow and grey, or many others. Each bike is unisex, beautiful, and ideal for those looking for beautiful colors. Moreover, with its sleek appearance and aerodynamic frame and wheels, the finiss road bike is designed for long-distance riding. So, begin your journey to riding with them.
For those who have finiss bike passion and intend to know more about it, read below.
Specifications
Speed: 21 Speed
Fork: 700C Steel Threadless
Frame: Lightweight and Strong Aluminum Frame
Rear Derailleur: Shimano RD-TZ50
Front Derailleur: Shimano TZ-31
Shifters: Shimano SA050
Rims: Aluminum A5 700C x 14G x 36H*H30
Brakes: Aluminum Caliper
Handlebar: W: 420mm, D: 22.2mm
Tires: Kenda 700, 28C
Bike Weight: 28 pounds
Seat Post: Aluminum PR-P1-0, 27.2 * 300 * 2.2
Rider Weight Limit: 330 lbs (220 lbs is recommended)
Merax Finiss Road Bike Features
Light Aluminum Frame
The lightweight and sturdy 6061 aluminum frame of the bike will keep you comfortable, no matter the conditions. In addition, the bike is so light that you can even carry it up steep hills.
Also, it doesn't weigh much, which ensures you won't be carrying around a ton of extra weight on your back when you're not using the bike. Moreover, the aluminum kickstand further reduces the bike's weight.
Quality Rims and Brakes
The rims and brakes are also composed of aluminum, making stops in all types of weather much more accessible.
In addition, the aluminum caliper brakes provide excellent braking performance without causing damage to you or your bike. Also, their weight is lighter than iron, which enhances bike handling capabilities and reduces suspension activity.
Well-Designed Tires
Your bike will be able to handle uneven roads and muddy terrains thanks to high-quality 700C tires. It means you can ride anywhere without worrying about wearing out of the tires. Hence, highly recommended for those who enjoy taking risks.
Speed Options
Having a bike with several speeds is an asset. You can control your pace depending on the terrain wherever you are riding. To alter speeds, you must adjust the gear combinations. For instance, 21 Speed bikes feature three front and seven rear gears that may be swapped while pedaling. If you're looking for the perfect gear, go with whatever feels most comfortable to you. If you want a bike with fewer gear options, check out our popular assessment of the best fixie bikes.
Easy Shifting of Gear
Shimano's shifter and derailleur are engineered to help shift between speeds that are much simpler ad accessible. Shifters, which govern the derailleur, are attached to the handlebars; if you're concerned about shifting gears while cycling, have no fear! Likewise, you won't have to worry about the Shimano components being challenging to use when hiking a hill.
Additional
If you love spending a lot of time traveling or commuting, this bike is perfect for you as it comes with various accessories. One of them is a complimentary pannier bag, allowing you to carry a lot of stuff when cycling. This handy feature is ideal for folks who need a place to store their belongings while on the road. Don't worry; pannier bags are meant to hold a lot of weight. Plus, if you don't want to carry them on your back, they may be attached to your front or rear tire.
Aesthetic Colors
There are six different shades of hues: red, blue, pink, green, purple, and black. In addition, they come in a shiny finish that will make an exciting look. In addition to that, you can match them to any visual appearance, whether it's a casual look or a more formal look, and you'll get a range of styles that will suit your personality.
Price
The finiss road bike price costs between $260 to $300, depending on the size you choose. The sizes are 50 cm, 54 cm, and 58 cm, suitable for women and men. These finest race bikes are available for purchase on Amazon.
Finiss Bike Assembly
You must assemble the front wheel of the bike. You can accomplish this simply by turning the fork 180 degrees. Besides, Merax bikes include all quick-release front wheels, which eliminate the need for tools. The front wheel is pinned to the cycle, making the overall process easy and effective. Pedals must also be properly installed and tightened. However, there are no prerequisites for this project.
Again, this is a simple procedure that you can complete with the help of a wrench. The left and right pedals are both labeled to make it easy to know which goes where. Moreover, you can adjust the seat and fit it depending on your height. For people who are accustomed to riding and buying bicycles, that will be a breeze.
To suit your demands, adjust the gears and brakes as necessary. Some buyers have suggested carrying it to a bike shop for proper gear tuning and fitting. However, you might also view YouTube videos or videos on the Merax website to learn how to fit your gears properly.
Finiss Bike Functionality
As decided by the technical specifications and evaluations from users, this racing bicycle's functionality is overall positive. It is designed for the average rider, and if you understand that this is an entry-level racing bike, you will have a positive experience. On the other hand, if you are a newbie demanding excellent quality and durable elements, you must know that professional and advanced road bikes can cost thousands of dollars.
Pros
Lightweight and sturdy aluminum frame
Quick-Release Front Wheels
700C steel threadless fork
Shimano shifter and derailleur for reliable shifting
Aluminum kickstand
Simple to set up
Multiple speed options
Low density for a lightweight bike
Different color options
Exceptional for usual cycling, commuting, or exercise
Cons
Adjusting gears require proper learning.
The chain will possibly need to be improved
Brakes might need to be changed
Merax Road Bike Lightweigt Alloy 27 Speed 700C Racing Bicycle with Disc Brakes
as of May 24, 2023 11:40 am
Customers loved the Finiss Bike and highly recommend it. They reviewed it as great value for money and said it is one of the most affordable bikes. Moreover, it is lightweight, fastest, easy to transport and gives the best biking experience.
Based on the finiss bike review, we have listed the finiss mountain bike advantages and disadvantages below.
Pros
Aerodynamic design
Lightweight frame
Selection of stylish designs
Quality 28c wheels
Bottom Line
It is a fantastic entry-level road bike for all those who enjoy racing road bikes.
Is the bike already put together?
No, you'll have to put the front tire and seat together yourself, but it's not complicated.
What is the maximum weight capacity of this bike?
The advised weight is 220 pounds. However, it can go till 330 pounds.
Is the rear wheel a quick release?
No, it's the front wheel only.
Is it possible to ride this bike if I am above 6 feet tall?
Yes, multiple sizes are available.
Conclusion
If you want to take your first steps into the world of road biking but don't have a lot of money to play with, I will highly commend the Merax Finiss road bike. The components utilized are of reasonable quality, and it isn't easy to get anything better without spending an excessive amount of money.
Moreover, the Finiss is exceptionally light, has an aerodynamic shape, and you can easily remove the wheels for storage. Finally, its affordable pricing will not break your bank account either.
It's a fantastic bike for both men and women.
Let us know what you think in the comments section below this page if you decide to give it a try.